Meru Cabs Offers Online Taxi Booking with Free Ride
Meru, a name which stands for world-class taxi service started in the year 2007 in collaboration with True North. Meru was the first personal taxi service provider. Looking at the transportation system in India, it became necessary for someone to take responsibility and that is when Meru cabs came into the picture.
The only thing which keeps Meru taxi motivated is to provide a safe and reliable transportation resolution for everyone across the nation.

Meru Cabs Offers:
Booking a Meru taxi is not difficult at all. Knowing that you are travelling safe is a great relief not just for you but for Meru cabs too. Providing a transparent and reliable ride is what makes Meru standout in the market. Unlike other taxi applications, Meru apps will ensure that you get to choose the right ride for you. You can choose from Radio taxi, sedan, hatchback, SUV, and Outstation cabs. If you want to book an outstation cab, then head towards our Meru store page and browse through an array of Meru cabs offer. Choose the best offer and have a safe ride.

Meru Cabs in Bangalore - When you want a Safe Ride:
Bangalore is the hub of IT centers and this particular city can be overpowered with a lot of traffic. Everyday a lot of people travel back and forth from office to home and knowing that you have Meru cabs in hand, your ride becomes extremely easy. Driving your own car during peak hours become extremely tiresome. That is why trust Meru airport taxi in Bangalore if you wish to reach airport on time.

Meru Cab Booking- How to do it?:
If you are wondering how to book a cab in Meru airport taxi application, then here is a guide for you. Follow each step and book your cab right away.
Select the destination that you wish to arrive
Select the type of car you wish to ride on. You can make your choice from Radio taxi, sedan, hatchback, SUV, and outstation.
Now track your cab in real time.
Arrive your destination on time and safely
An e-bill will be generated and send to your registered email id.
Pay for your ride.
Share your feedback for the ride.

Feel free to share your valuable feedback for your ride, this will make Meru stronger. In case of any difficulty, you can also get in touch with Meru cabs customer care as well. Here is the number- 4422 4422, add the STD code of the desired state. You can also write to them at feedback@meru.in. You can also visit their official website to check the Meru cabs contact number for other departments too.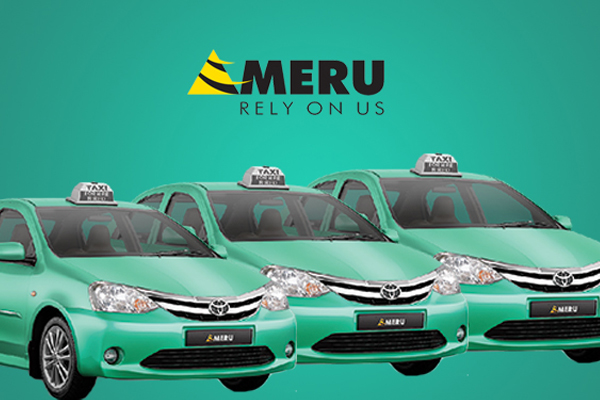 Meru Cabs in Mumbai- They are Reliable:
Booking Meru online will not only make your ride reliable but also a memorable one. Meru always comes with the best and comfortable car with highly professional drivers. All the drivers go through background check ensuring that they are safe to ride with. The Meru cab Mumbai number is 44224422, you simply need to add the STD code in the beginning of the number before calling them. Reach all the places in Mumbai easily and swiftly. Call them today.
Looking for Cabs in Chennai?:
Chennai again is the hub of so many corporate offices. We always travel to and fro from time to time. Often people choose travelling by road rather than flight and that is when you should consider calling the Meru cabs. Just a few tips for you before you call them:
Price is an important factor and before going ahead with Meru booking, ensure to check the price. They offer competitive price in the market.
Check if the driver has a licence, if not, then give Meru a call. Safety is not only their priority but it should be yours too.
Ensure that the driver that will be travelling with you has completed his background check. In case of any doubt, call Meru immediately.
Exclusive Meru Cab Coupons for Meru Cabs in Delhi:
Meru offers the largest Meru cabs airport services in India. Call Meru cabs today if you have to go to the airport. Do not worry about Meru vehicles. They all go through inspection. Vehicles condition is an important factor for Meru and they ensure that they provide the right cab for you. You can also inspect the Meru booking cab by yourself too. In case of any trouble, give a call to Meru cabs Delhi number and they will sort out the issue quickly.
Meru Cabs Coupon Code- Just what you need for Meru Cabs Hyderabad:
Make sure to visit our Meru cabs page to be awestruck with the amount of Meru cabs coupon codes we have to offer. Check all the reviews of Meru cabs to be sure before checking out the Meru cabs fare. Knowing the experience of precious customers will give you enough confidence to book a cab right away. Reputation of their cabs is essential for Meru owners. They want to be the best cab providers in Hyderabad and everywhere else.
Just Added: Amazon Mobile Offers: Grab a Deal On Latest Smartphones
Meru Cabs Online Booking is Easy:
If you want to book a Meru cab then the easiest way is to download the Meru cab app on your smartphone, open it and choose a destination. Pick the right car for yourself and reach there safely. Do not worry about the receipt, an e-bill will be generated and sent to your registered email id.
Meru cabs in Pune- Experience a Different Service:
Meru cabs in Pune have recently launched another feature. You can now book a Meru taxi from Google map itself. You can also compare various price in real-time and pick the right car for yourself. That is the fastest way to book a ride. Also, Meru introduced three new cabs as well. Suv, Sedan, and Hatchback.
Meru Cabs in Jaipur- Travel the City and Ride Comfortably:
Another good news for people who choose Meru cabs in Jaipur is their integration with Facebook messenger. Now, you can avail their entire service right on your Facebook messenger. With this,Meru cabs yet again becomes the first to do that. Save the Meru contact number which is 44224422 and do not forget to add the STD code and never worry about the Meru cab bills because they will be sent to you.
Have something to share? Submit it below:
---